Original Miracle Balm
OMB_35
Regular price

Price:

$ 13.00 USD

Regular price

List Price:

Sale price

Price:

$ 13.00 USD

Unit price

per
Our all-natural and organic daily moisturizer and soothing for eczema symptoms.
Made with 100% organic ingredients like beeswax, shea butter, and extra-virgin coconut and olive oil – all ingredients you can feel confident about using on your skin with no preservatives whatsoever. Whether you need to soothe eczema, moisturize, prevent blisters and chafing, or relieve itching, this balm really does it all. 
Fortified with essential oils.
For Miracle Balm with added clear zinc (for extra soothing or open skin) checkout out Miracle Balm + Clear Zinc.
How to Use:
Apply a thin coat anywhere your skin needs moisture. A little goes a long way!  Your skin will feel smooth when rubbed in well (pro tip: if it feels greasy or tacky after rubbing in, you've used too much – try a bit less next time). 
Use as an everyday skin moisturizer and after hand washing/sanitizing
No greasy residue
Soothes itchy and dry skin
Use to ward off and soothe eczema 
Defends against blisters and chafed skin
Protects nails, hands, and feet
Trail and obstacle race tested
Natural eye makeup remover
Ingredients:
Beeswax, Extra Virgin Olive Oil, Extra Virgin Coconut Oil, Shea Butter, Vitamin E, Peppermint & Lavender Essential Oils.
---
Customer Reviews
Excellent loved everything
Perfect results
01/07/2023
Cathy W.

United States
Enjoying Miracle Balm
I have enjoyed Miracle Balm so far. I plan to continue using it. Especially looking forward to using it when I begin training for long hikes in the spring.
12/11/2022
Michelle

United States
Really really works. It's helping cracked skin
Good experience
09/10/2022
Olga K.

Canada
Dr Doug's miracle balm
I initially used the Recovery + Balm that my daughter gave me for sore muscles. She lives in Bend, OR. It works for me. When I order it from you, I didn't realize that there were so many products. I'll keep the Miracle Balm BUT I need to order the "Recovery + Balm" for sore muscles. I'm recovering from sciatica. I have not used any of the Miracle Balm yet, but I'm sure it's great. Thank you for the 2 gifts.
06/06/2022
Lindsey F.

United States
Lindsey
I love this product for my eczema flare ups!
04/11/2022
Ann M.

United States
Magnesium and Miracle balms
Love the product! I use it every night. Will continue to buy.
01/30/2022
Kim B.

United States
Exema miracle bomb
Returning customer. 22 year old son has very sensitive skin. He loves the roll on version. He puts in back pack.Love it for him. Happy Mom ❤❤❤
01/22/2022
MICHELLE S.

United States
Thoroughly satisfied!
I began using this balm over a year ago on the advice from a friend who participates in similar athletic events as I do. The balm helps prevent blisters and chafe; calms and moisturizes skin irritations; and I especially appreciate that I can use it around my eyes without affecting them negatively. Thank you Dr. Doug!!
12/11/2021
Christina M.

United States
Great product
I love this so much, I want to tell everyone , a little goes a long way. Great for elbows, feet, my dry cracked hands love it. It is not sticky not smelly simply great.
12/08/2021
Pat D.

United States
I had bought this when it was called Miracle Balm. No telling how long ago. Any way since I have had some injuries I used it. When I ran out I couldn't find it any more. So I bought Dr Doug's because it was similar. When I received it it was the same thing. I like it and it helps heel cuts.
09/04/2021
Anonymous

United States
The Real Definition of Dread
Dread is scraping the bottom of the jar of Dr. Doug's balm, while waiting for a shipment to arrive.
07/12/2021
Erica M.

United States
Amazing products!!!
This is a game changer. My soccer team played in a tournament last weekend and had 6 games over 3 days. Not a blister to be seen!! First time playing the tournament without blisters. I used the recovery balm and think that made the difference in being able to play 6 games without a lot of soreness. This will now be forever in my soccer bag.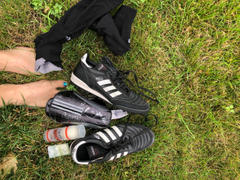 04/02/2021
Anonymous

United States
Gift
Gift for person experiencing radiation for breast cancer. Excellent results
03/20/2021
Anonymous

United States
Great product and customer service
No other product like this, amazing for dry/cracked hands. There was a small glitch with my order, I emailed them about it, they responded quickly and fixed the issue. Will absolutely order again.
03/15/2021
Anonymous

United States
Addicted ❤️
Love Dr Dougs Miracle Balms. Addicted to these products. Lip logic is amazing and the miracle balm is the best for keeping skin moist.
03/11/2021
Anonymous

United States
Great for dry skin!
One of the best products I've used to treat dry skin.