Miracle Balm + Clear Zinc
OMBZ_8
Regular price

From:

$ 56.00 USD

Regular price

List Price:

Sale price

Price:

$ 56.00 USD

Unit price

per
Original Miracle Balm + Zinc: Advanced Skin Relief and Sun Protection
Adding to the success of the Miracle Balm series, we've unveiled the Original Miracle Balm + Zinc. This enhanced formula includes zinc and titanium dioxide, offering a natural sun barrier for your skin. Ideal for face and lip protection, it doesn't leave behind the chalky residue that many natural sunscreens do. If you're seeking a toxin-free formula that can tackle minor skin issues while offering sun protection, Miracle Balm + Zinc checks all the boxes.
How to Use:
Open wounds: clean affected area with soap and water, then apply a thick coat onto wound. Cover with Band-Aid/gauze afterwards.
Sun protection: Apply to skin evenly before going into the sun.  A little goes a long way and it should rub in clear. Apply to any exposed skin or total body before dressing.  If using for sun protection, reapply your Dr. Doug's + Zinc every 2 hours as needed.
Ingredients:
Organic Beeswax, Organic Extra Virgin Olive Oil, Organic Extra Virgin Coconut Oil, Organic Shea Butter, Zinc Oxide, Titanium Dioxide, Vitamin E, Organic Peppermint & Lavender Essential Oils.
---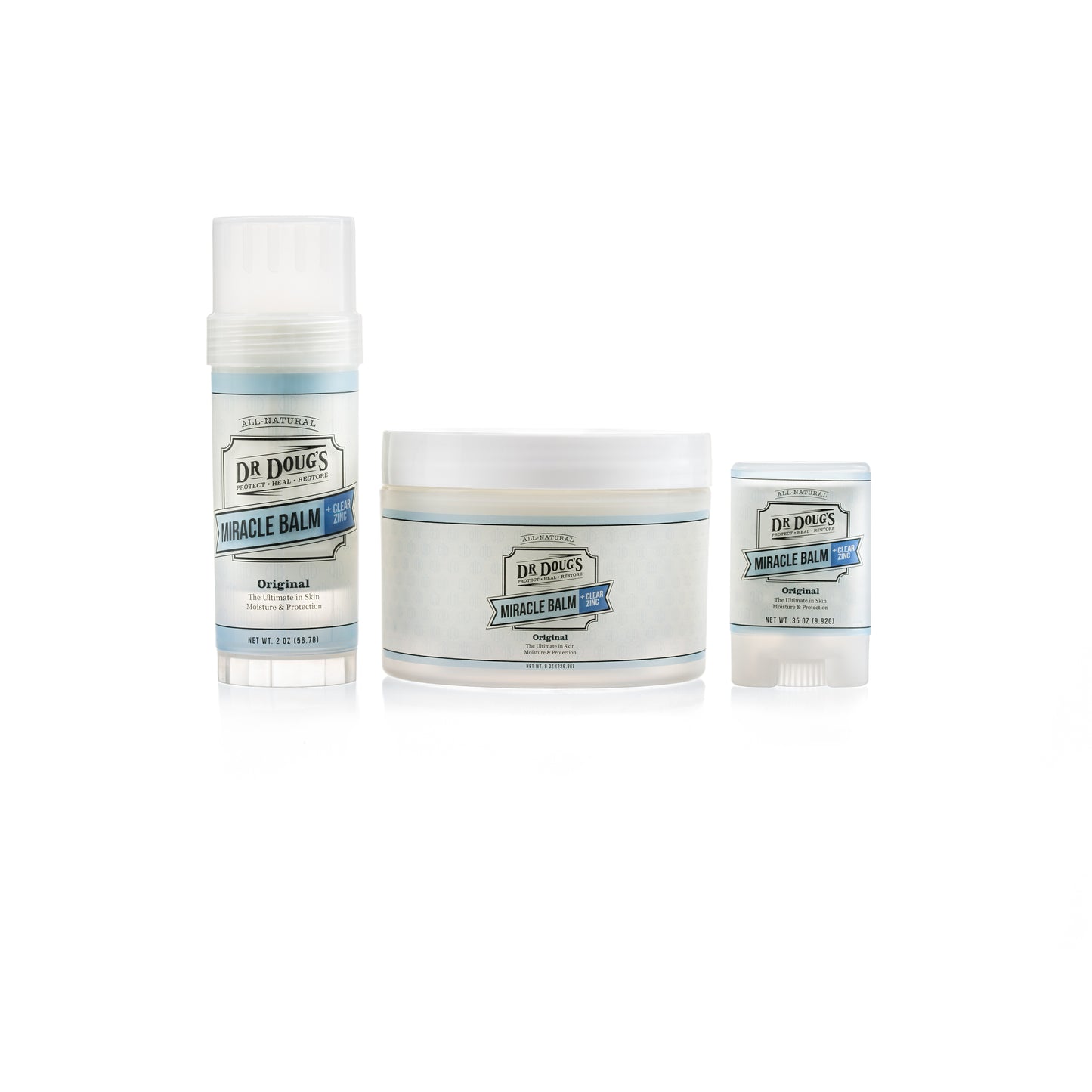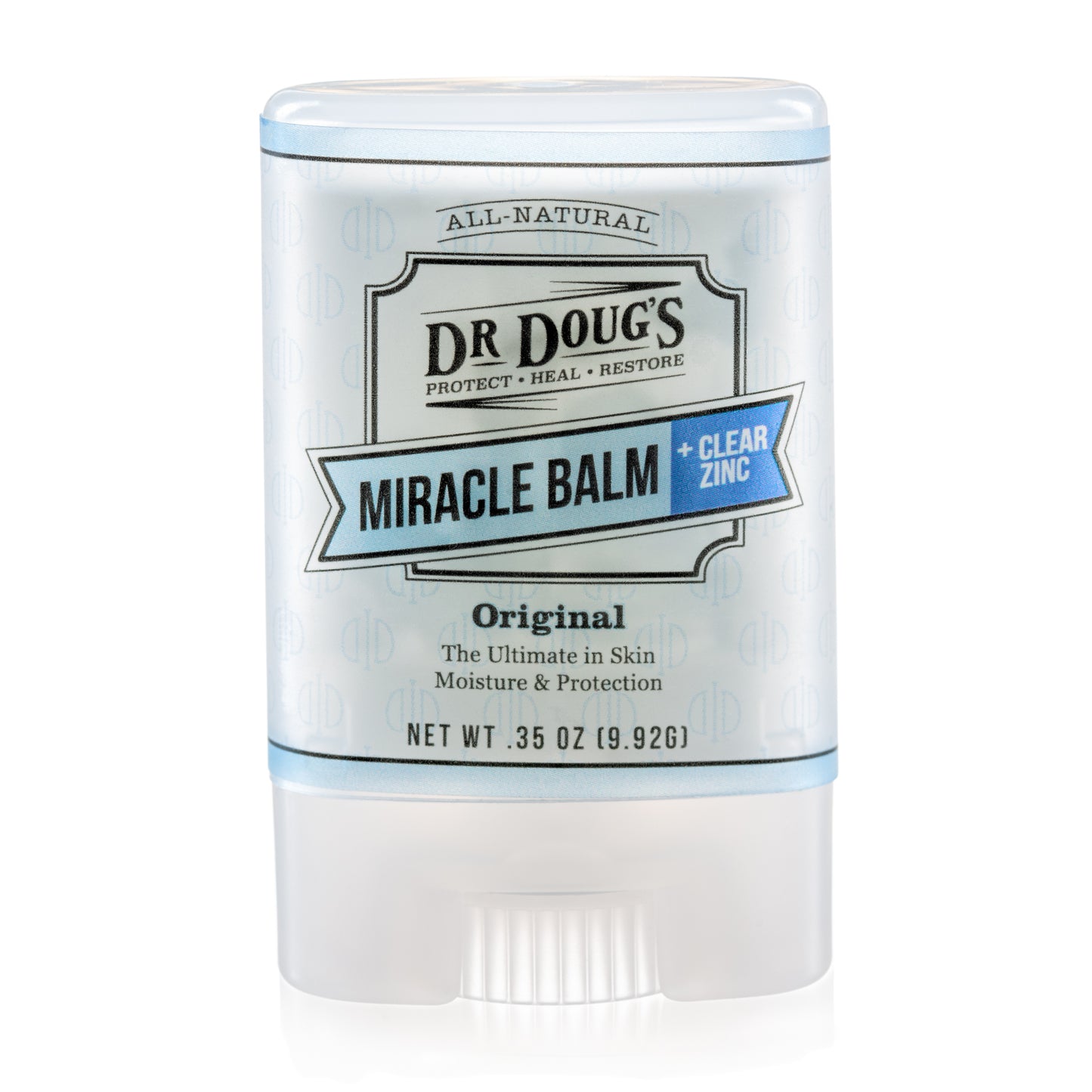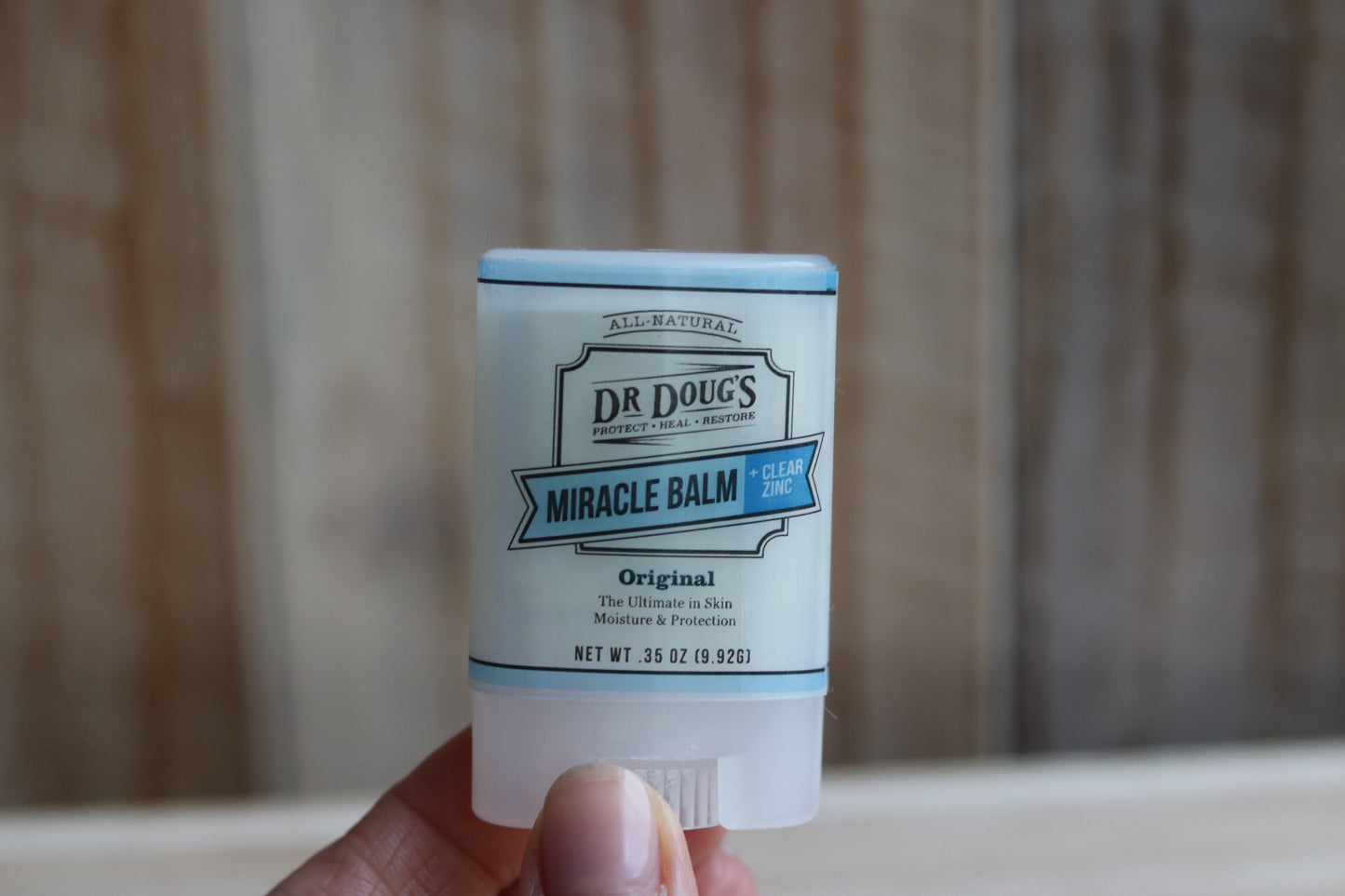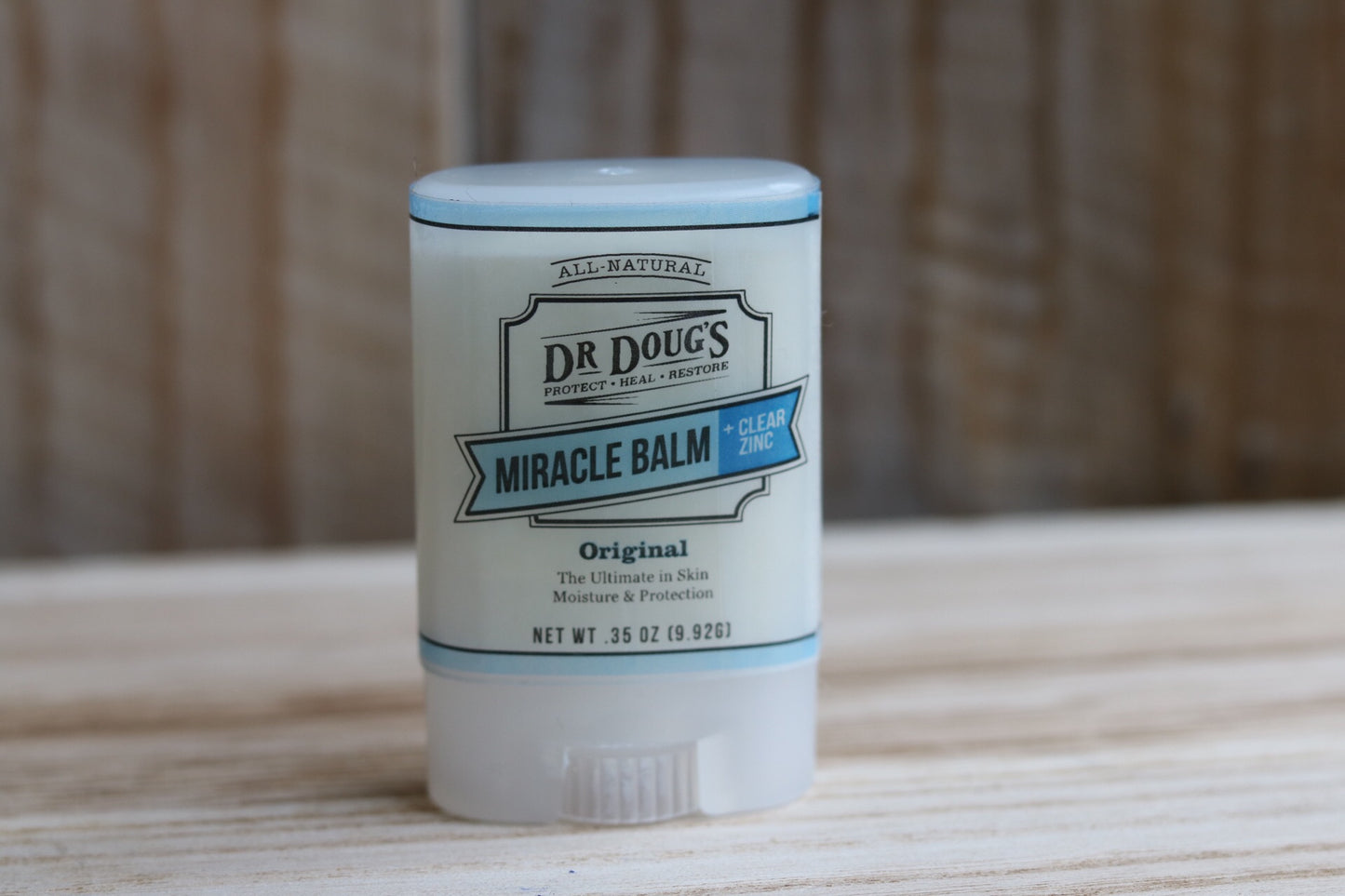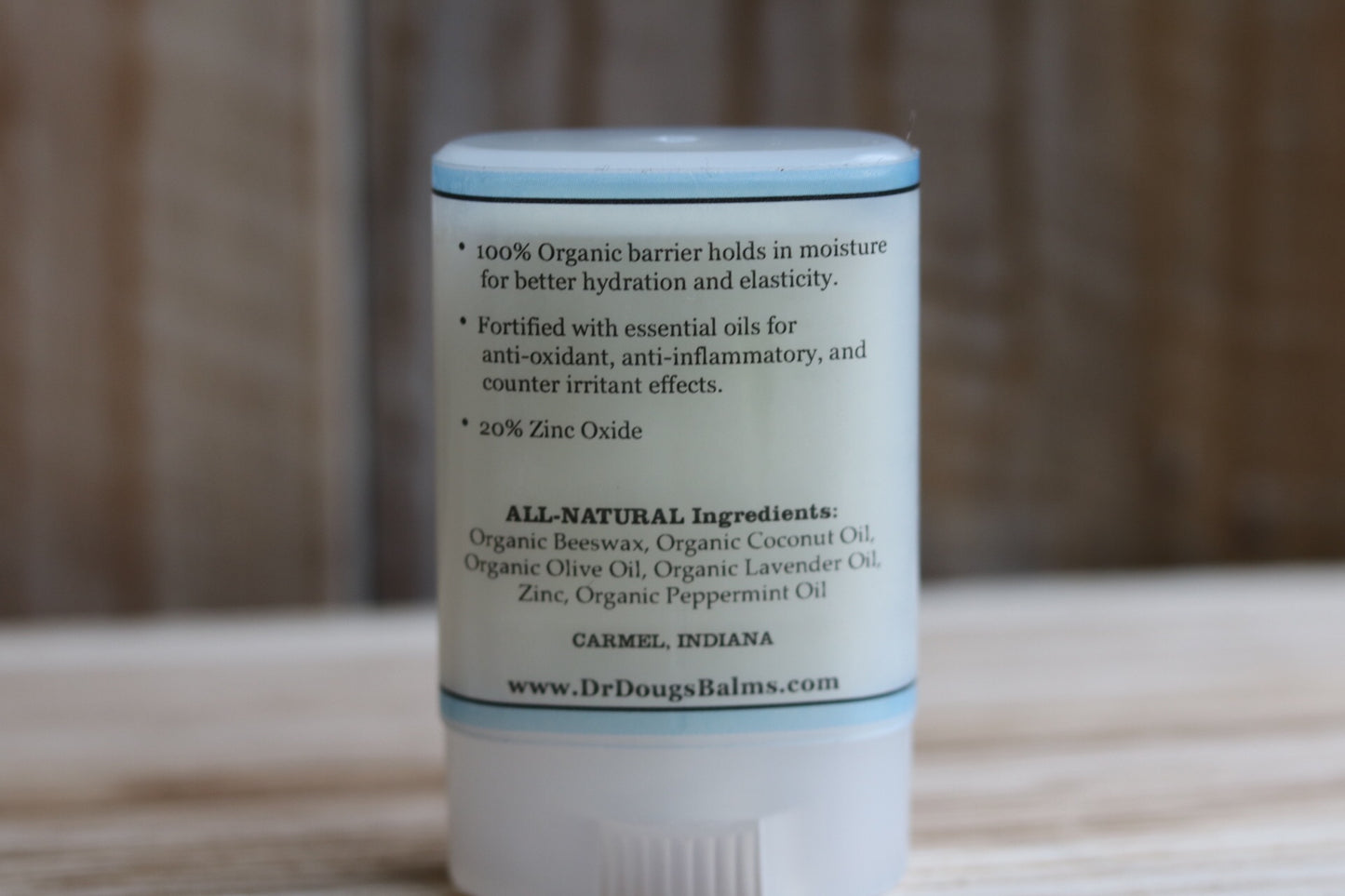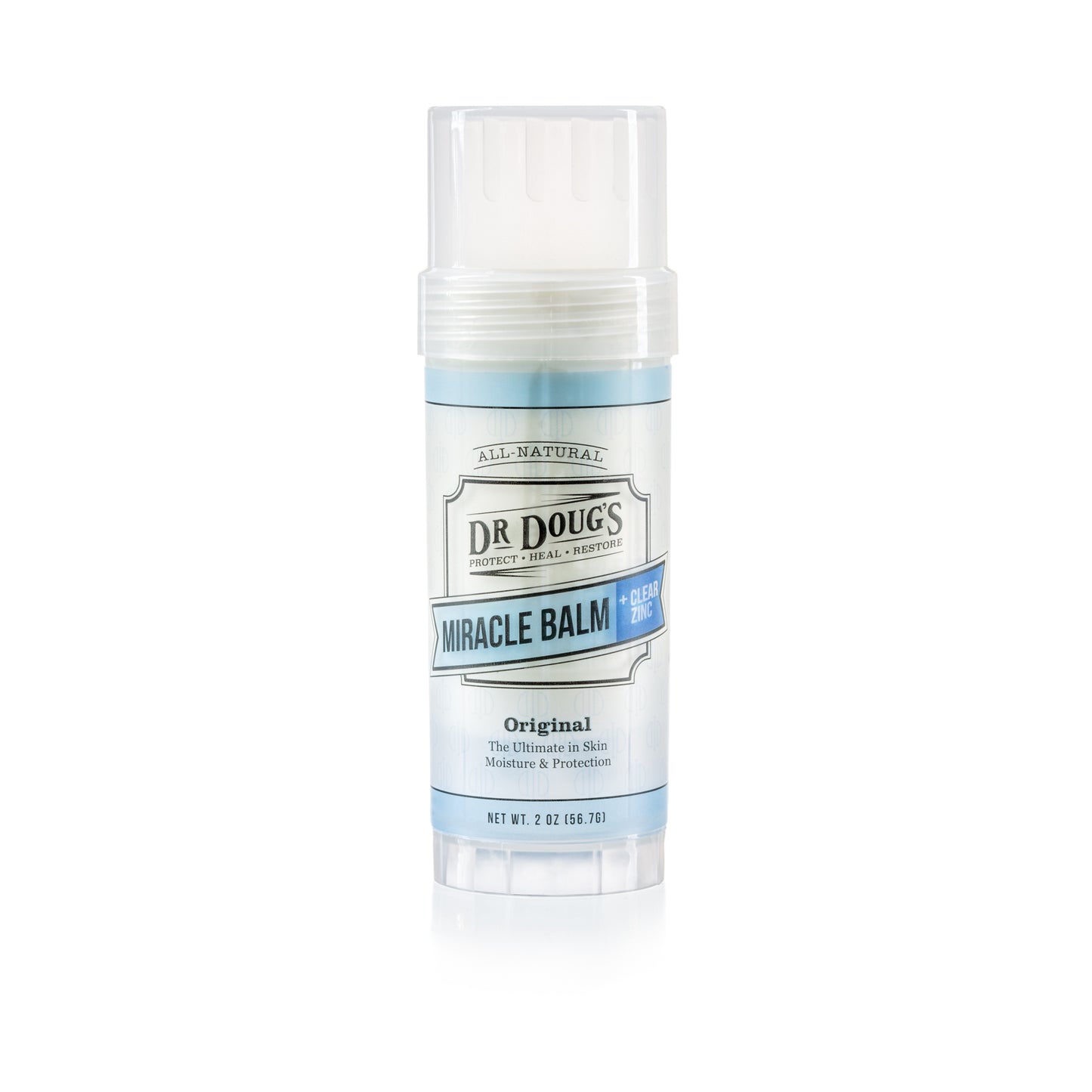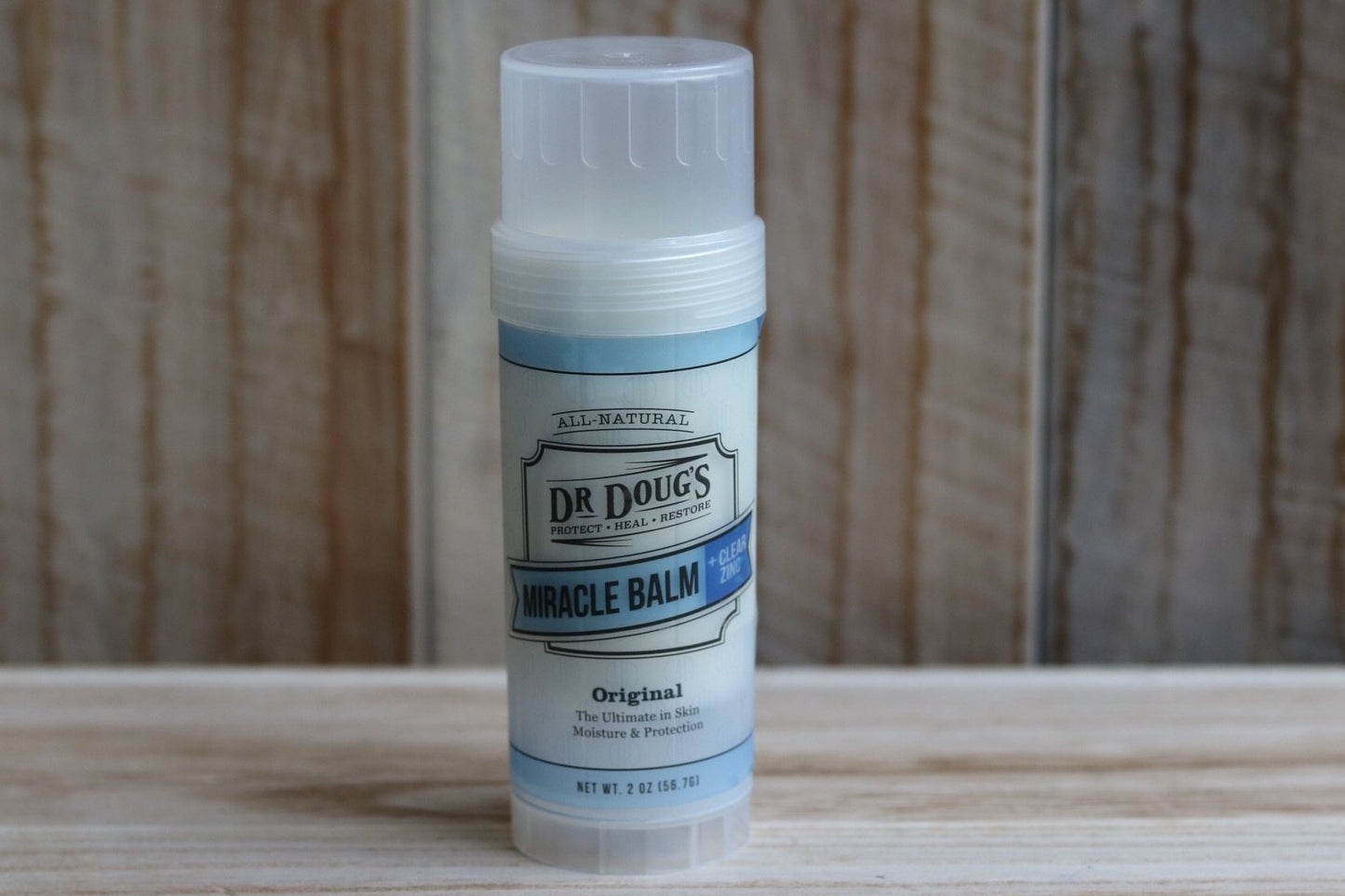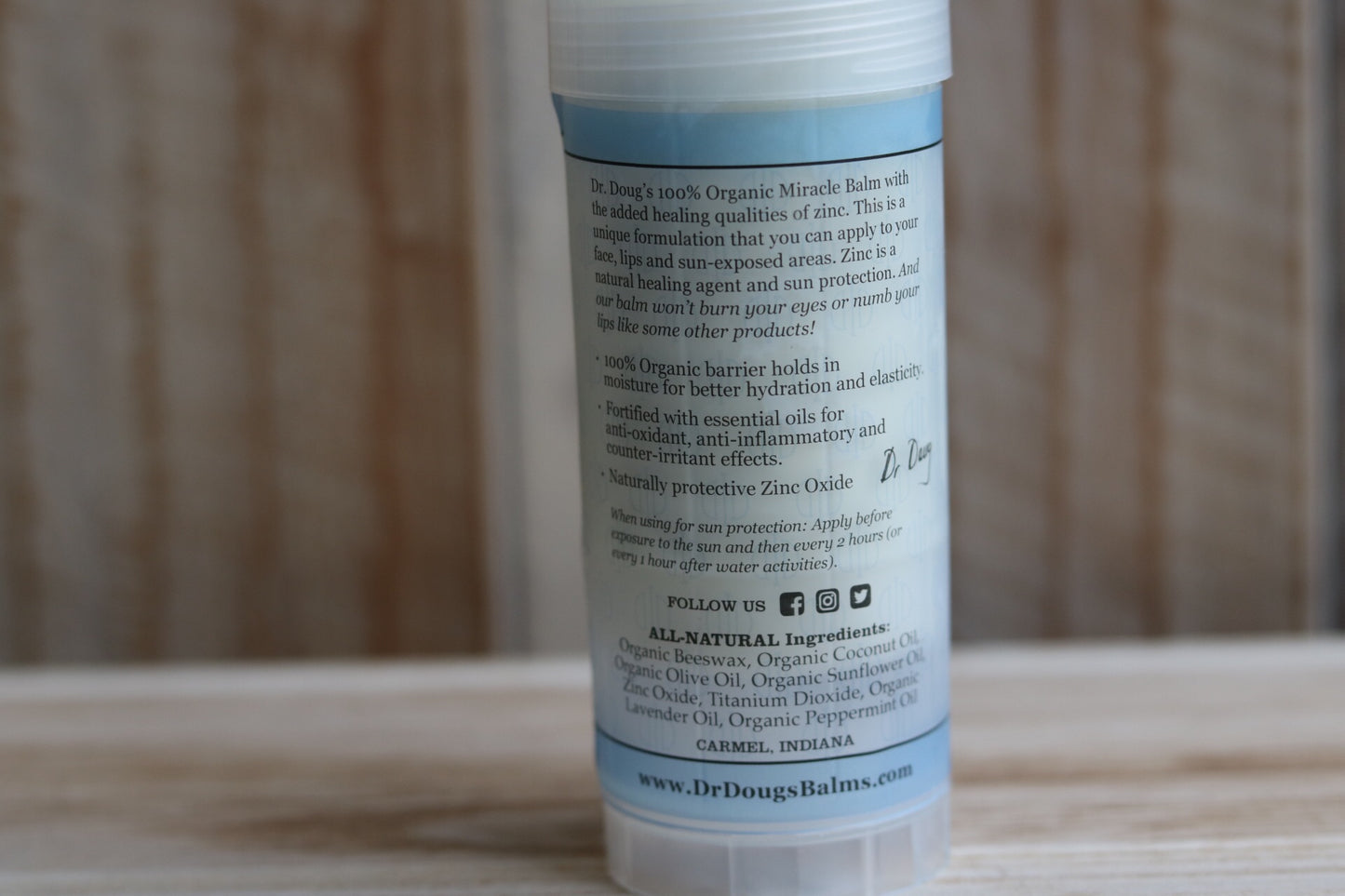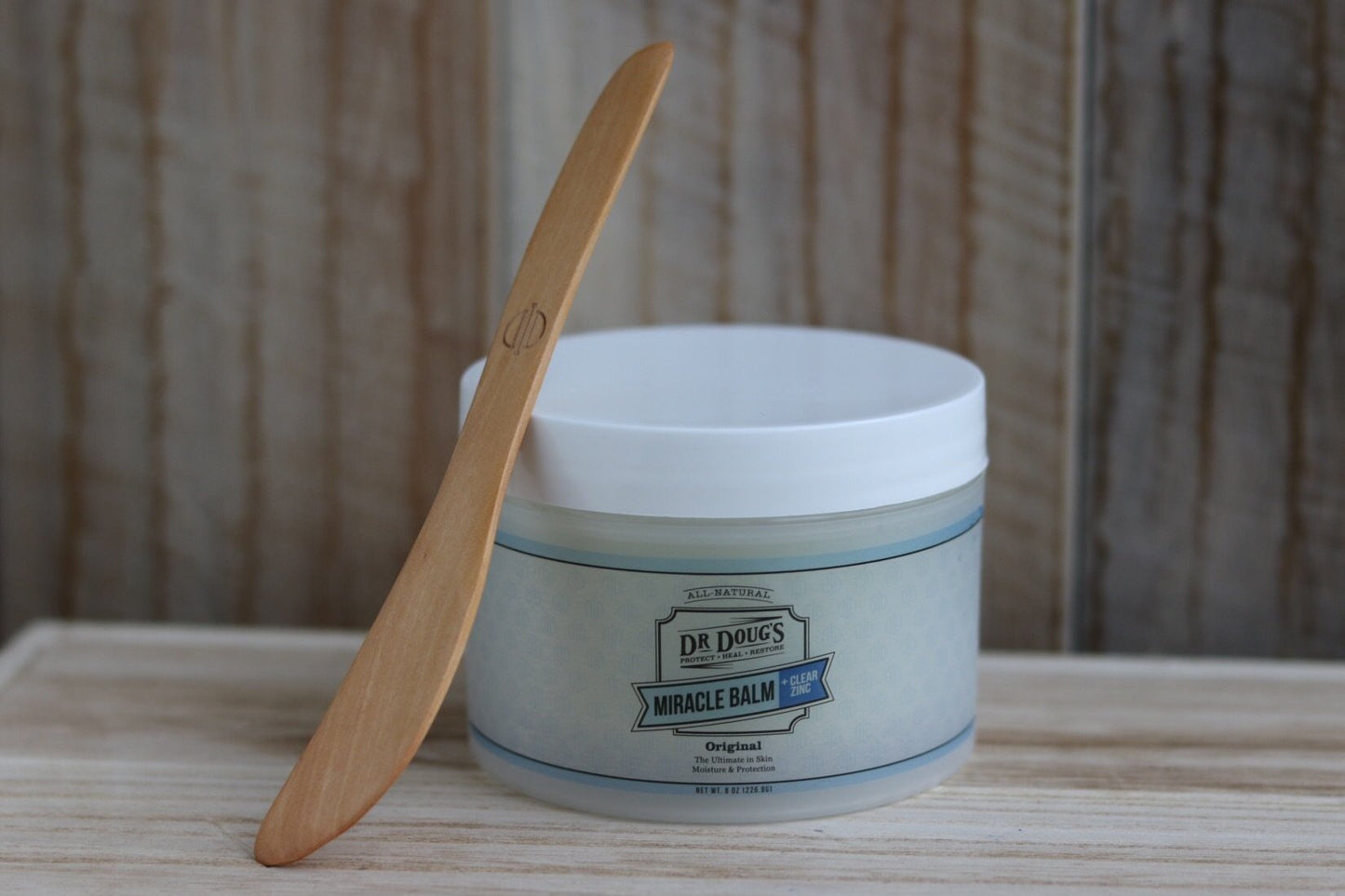 Customer Reviews
07/02/2022
Lori O.

United States
Finally a clean sunscreen that really works
A friend let me try this on a hike and I was so impressed I bought 2 for myself. It's a little greasy is my only con, but it's worth it.
06/22/2022
Arli &.

United States
A Startling Difference...
After surgery on my right leg I was able to use the Dr. Doug's only on my left leg. The difference in skin dryness on my legs was startling, While the right leg was scaly and shedding skin flakes, the left leg looked great. Once bandages were removed I was able to use it on both legs and the dryness is gone. Very grateful to Dr. Doug's!
01/04/2022
Tami S.

United States
Love Miracle Balm
Perfect for my continually winter dry hands and feet. Would highly recommend!
11/24/2021
Jacob C.

United States
Life Changing
This product is completely life changing. We have a son who has struggled with eczema, and finding a sunscreen has been a difficult process. This has allowed us to keep him safe from the safe and keep his skin in good shape.
10/25/2021
Rich R.

United States
Love it!
I use the miracle balm +zinc on my face and hands every day. Some moisturizers can cause my face to break out but, this doesn't. A little goes a long way
09/17/2021
Svetlana L.

United States
Can't live without
I use these products day and night to lock in moisture and create a skin barrier.
04/13/2021
Svetlana

United States
Impressed
Purchased this as well as Recovery balm and am so impressed with the hydration on my skin. I've got my whole family using these products now and and very impressed.
02/05/2021
Jon F.

United States
Boo - wasted money
This and the magnesium balm strike me as junk science. After temporary relief (< 2 hours) seemed to make condition worse.
02/05/2021
Dr. Doug's Miracle Balms
Jon, I am sorry to hear the products weren't what you were looking for. Please be assured, as promised, we have a 100% satisfaction guarantee & NEVER want our customers to feel like they wasted money. You are correct - topical products do have to be reapplied no matter what they are but I can assure you these products are not junk science. Doug is a practicing neurologist who worked long and hard to formulate each of the balms. He believes so much in getting them right that he is still makes them by hand to ensure quality. We will be in touch via email about your order shortly.
12/31/2020
Lara A.

United States
I love the Zinc Balm
This is a great balm for sensitive, irritated skin. Whether it's a sunburn, a cut, really dry skin or some kind of irritation… this is my go to product for getting the swelling and redness to go away fast. Love it.
11/27/2020
Anonymous

United States
Amazing!
This product worked miracles on a stubborn eczema-like rash -- that I had already tried other products on.
11/21/2020
Anonymous

United States
Amazing
Best product we have found for eczema.
Miracle
This product is a miracle. Used in on my heals and they feel like a babies bum.
Best products available!
As always, Dr. Doug's service is the best. I'll never be without my lip balm, mag balm and clear zinc. Every product is a miracle!!
Recovery balm
I recently suffered a stage 1 hamstring pull playing soccer. First thing I did when I got home was put some of the recovery balm on my leg. The magnesium and arnica properties definitely help with some pain relief and getting some blood flow going. Usually a pulled muscle keeps you from doing activities for weeks. Using this balm daily combined with light stretching and massage therapy and I can feel my leg getting back to normal much quicker... I'm a big believer that this balm helps speed up recovery, and is also a good preventative product... awesome product!
01/12/2020
Dr. Doug's Miracle Balms
Thank you for the feedback Bryan! We greatly appreciate it :)
Love the Miracle Balm
I loved the miracle balm. i have to use it every day for my allergic skin conditions. The zinc did not work well. It made my skin dry and scaly. I did purchase more of the miracle balm though. Great product!
Fantastic product!!!!
The Miracle balm is one of the best products I have used in a long time. I'm not one to write reviews but this I felt deserved 5 stars. Not to mention the smell is amazing.