Dry Skin/Eczema Relief Toolkit
ERKIT
Regular price

From:

$ 65.00 USD

Regular price

List Price:

Sale price

Price:

$ 65.00 USD

Unit price

per
Relief from itchy, dry, cracked skin and even the challenges of eczema is in sight!  We've included three of our top products for soothing dry skin, keeping flareups at bay and keeping future outbreaks away in this specially curated toolkit. 
Original Miracle Balm (Large, 8oz jar)

– The product that put Dr. Doug's on the map, this all-natural, non-irritating balm offers instant relief from the discomfort of eczema, along with a generous dose of long-lasting hydration.

Miracle Balm + Zinc (Mini, 0.35oz twist up)

– We added clear zinc to our original balm to help your skin regenerate and packaged it into a convenient tube so you can keep it on hand for on-the-go relief and sun protection.

Charcoal Soap

– For gentle cleansing and detoxification, this soap removes grime and residue without drying your skin out, so it can be used daily. It contains natural moisturizing ingredients to keep your skin soft and hydrated.

Plus, while supplies last, a FREE 

soap saver

to extend the lifespan of your Charcoal Soap
If someone you care about is trying to manage eczema or any other type of skin irritation, this could well be the best gift they've ever received! And if you're dealing with skin challenges yourself, this kit is a gift for your skin that will give you many days of sweet relief.

How to Use:
Clean skin morning and night. Y

ou'll use the charcoal soap to gently clean and detoxify the skin. With the charcoal soap included, you'll have the cleansing AND moisturizing soap you've always wanted.

On cracked and wounded skin

you'll apply our Clear Zinc Miracle Balm. Zinc helps with skin regeneration, maintaining skin integrity, and supports deep healing. The Clear Zinc Miracle Balm will come in a mini pocket size so you can have it with you when you need it most.

On dry, itchy, flaky skin, 

use our Original Miracle balm. Each bundle will include a big jar of the original for a healing and long-lasting moisturizer for your whole body. Apply each day to replenish and restore skin and for 24-hour moisture. This 8oz. jar is perfect to keep outside the shower/bath or next to your bed.  
The Dry Skin/Eczema Relief Bundle is the easiest way to stay consistent with your bodycare regimen.
Included in Toolkit:
Original Miracle Balm (Large Jar-8 oz.)
Miracle Balm + Zinc (Small Twist-0.35oz)
Charcoal Soap
FREE Soap Saver, while supplies last
---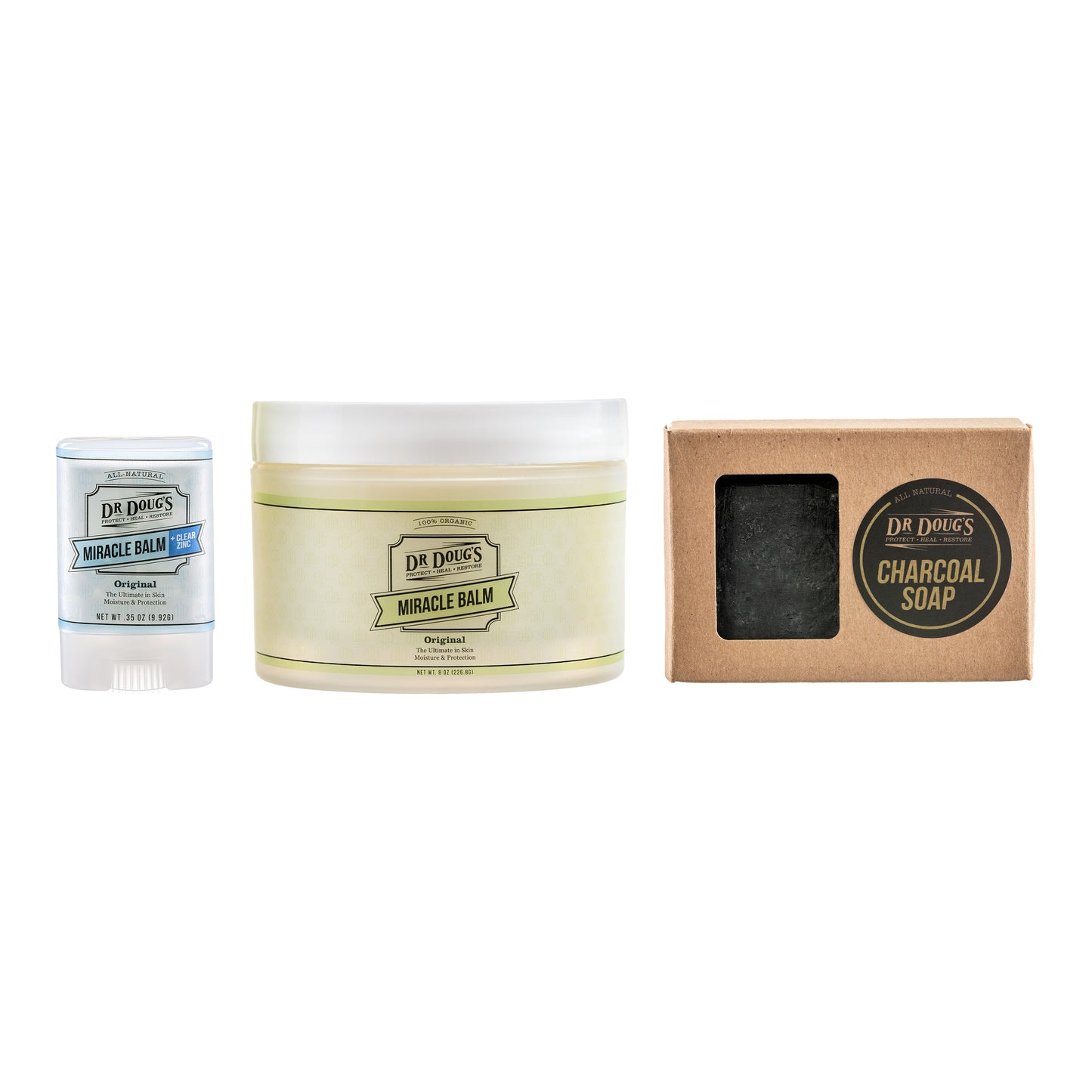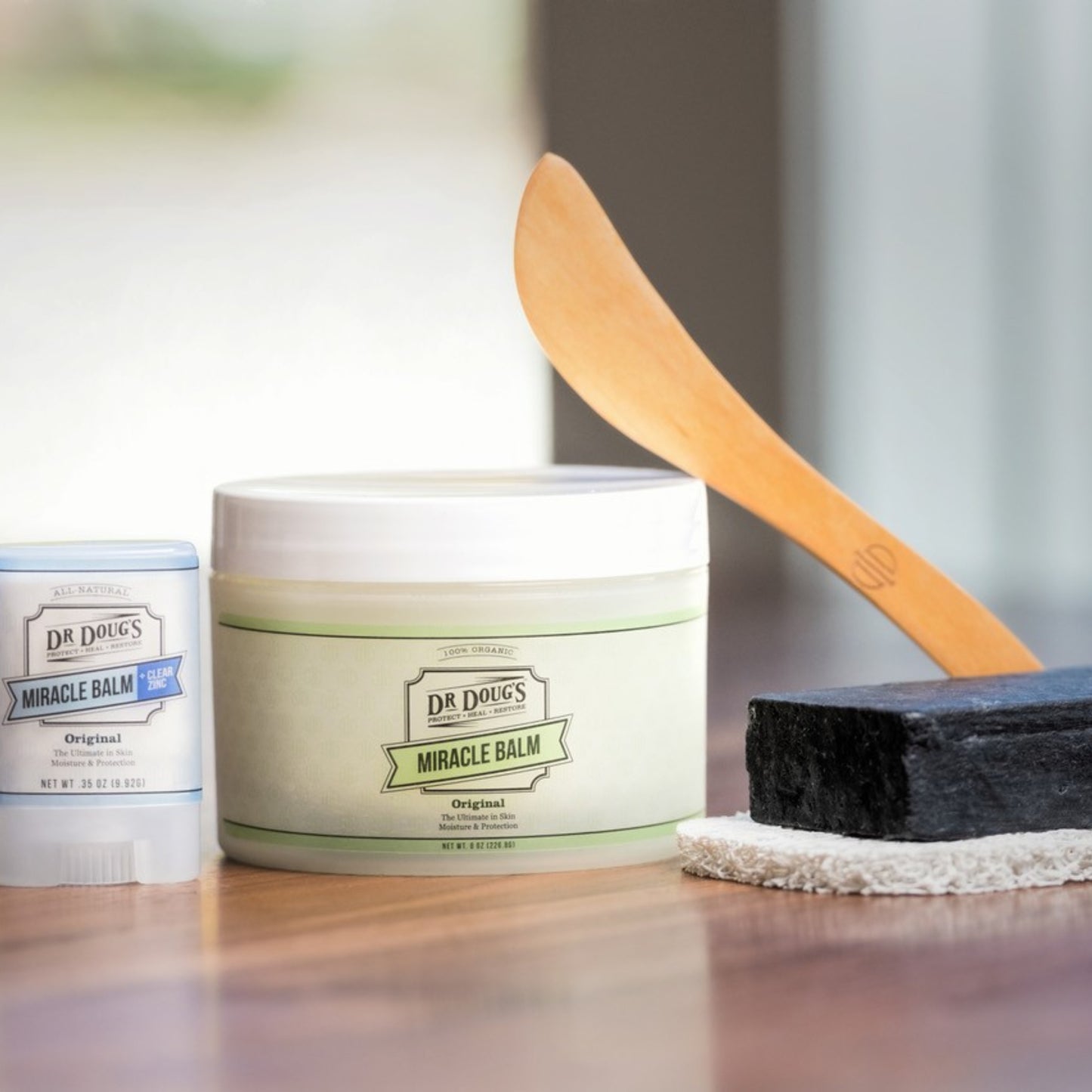 Customer Reviews
11/09/2020
EczemaTOMus

United States
This S*** Works. Literally nothing else does...
I've had eczema all my life. My parents dealt with it when I was a baby. As a young adult, I struggled every fall/winter to find a solution. I would grease myself up with vaseline from head to toe in effort to avoid the embarrassing, uncomfortable reality of eczema rashes. Then, a family member introduced me to Dr. Doug's. I apply it every day AS SOON as I step out of the shower. There's only one way to accurately describe what has happened: it has changed my life. I am a resident physician who treats children and adults and I am all-too-familiar with all of your options: "Use vaseline or barrier creams, limit your shower time and take LUKE-WARM showers, try this steroid cream"... Ugh! I am tired of these bad solutions. You may be tempted to shell out for those fancy prescription drugs that they use on transplant patients or you can save yourself time, money, and energy and BUY THIS. Dr. Doug's gives me and my fellow eczema warriors an effective and affordable solution to our annual affliction. The eczema bundle is all you need folks. Thank you Dr. Doug.
10/28/2020
Anonymous

United States
Great on my dry skin
Love the fact that it is clean with no extra **** ingredients.