Lip Logic
LIP_15
Regular price

From:

$ 10.00 USD

Regular price

List Price: $ 0.00 USD

Sale price

Price:

$ 10.00 USD

Unit price

per
Show your lips some love with Dr. Doug's Lip Logic. We've come up with an all-natural lip balm that provides lasting hydration for smoother, happier lips. This balm glides on smoothly and offers all-day lip protection. With moisturizing ingredients like extra-virgin coconut and olive oil and healing essential oils, a light layer of this comforting balm heals while it protects.
We've packed all this goodness into a highly portable tube that you can fit easily into your bag or pocket, so relief is never too far away!
We offer two versions of Lip Logic. The original is perfect for soothing and protecting lips at any hour, while our Lip Logic + Zinc is made for those who also need to protect their lips from the sun's harmful rays thanks to the addition of natural sun-blocking ingredients like zinc oxide and titanium dioxide. 
How to Use:
A little goes a long way! Apply a light layer smoothly over the lips to ensure complete protection. Reapply as needed.
Lip Logic Ingredients:
Beeswax, Extra Virgin Olive Oil, Extra Virgin Coconut Oil, Vitamin E, Peppermint & Lavender Essential Oils.
Lip Logic + Clear Zinc Ingredients:
Organic Beeswax, Organic Extra Virgin Olive Oil, Organic Extra Virgin Coconut Oil, Organic Shea Butter, Zinc Oxide, Titanium Dioxide, Vitamin E, Organic Peppermint Essential Oil & Organic Lavender Essential Oil.
---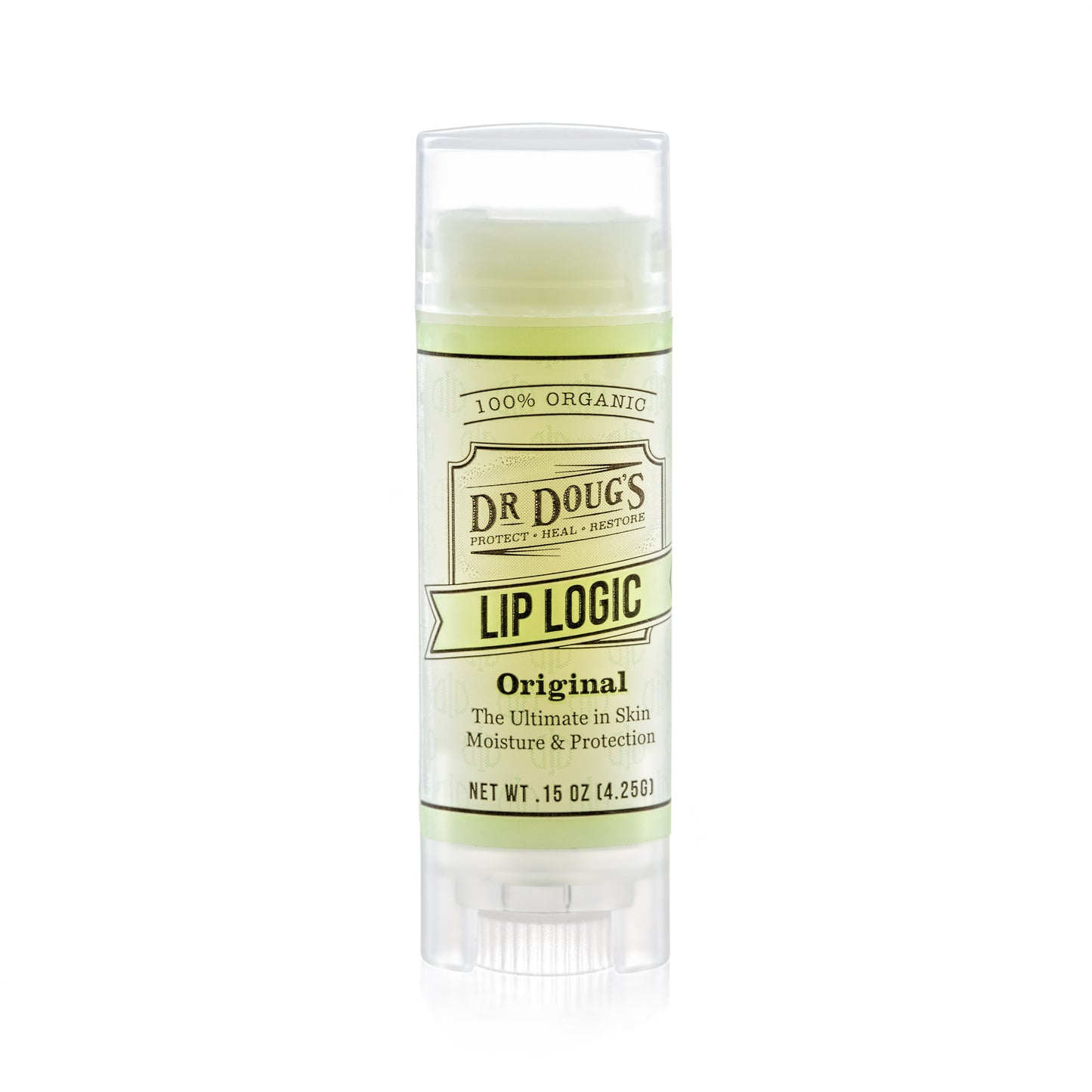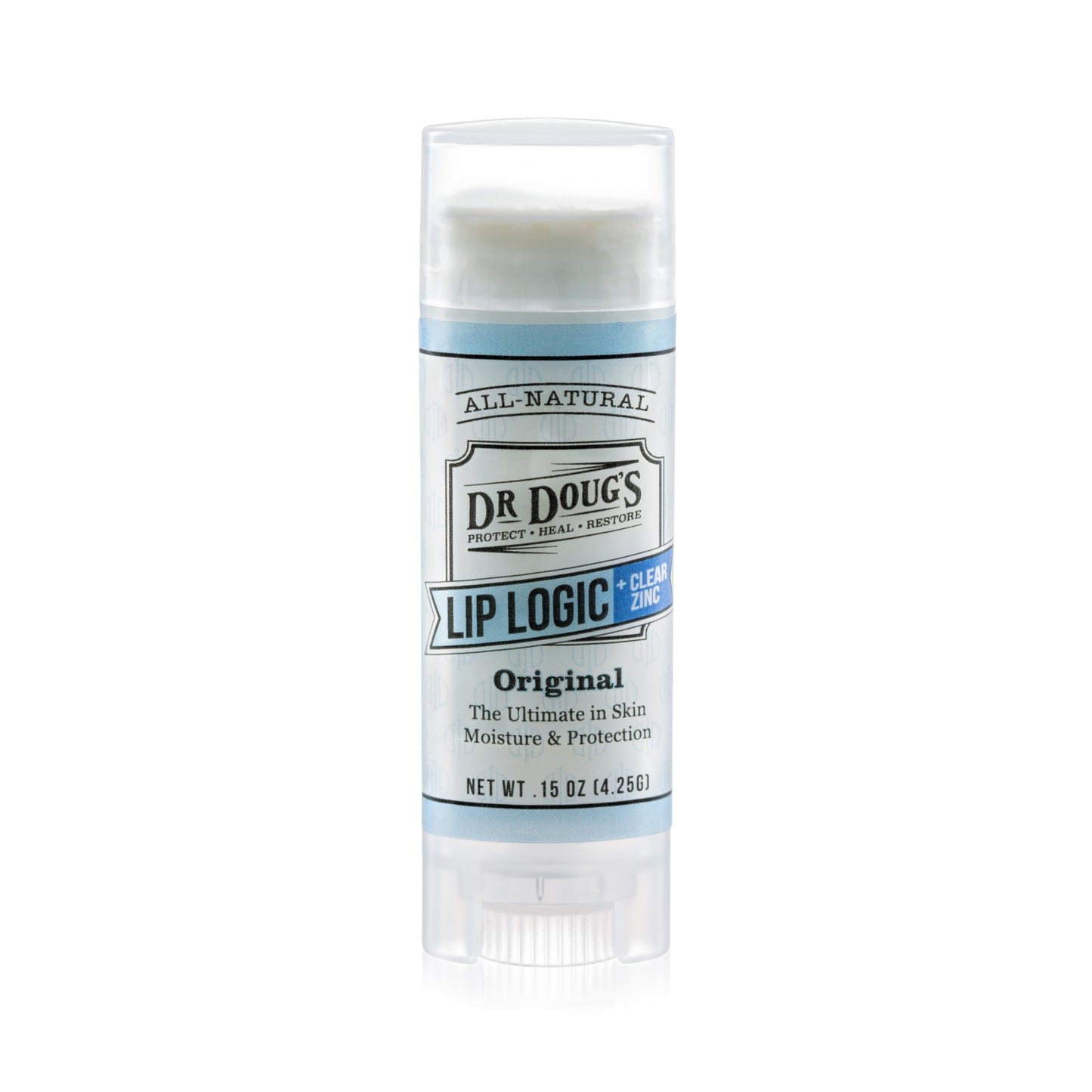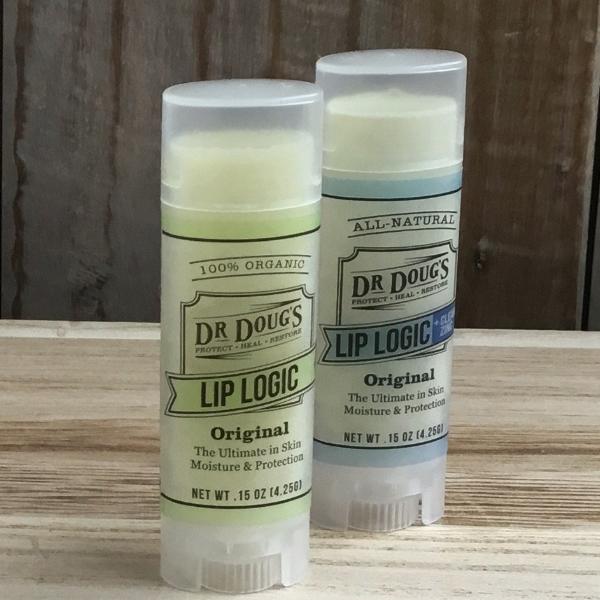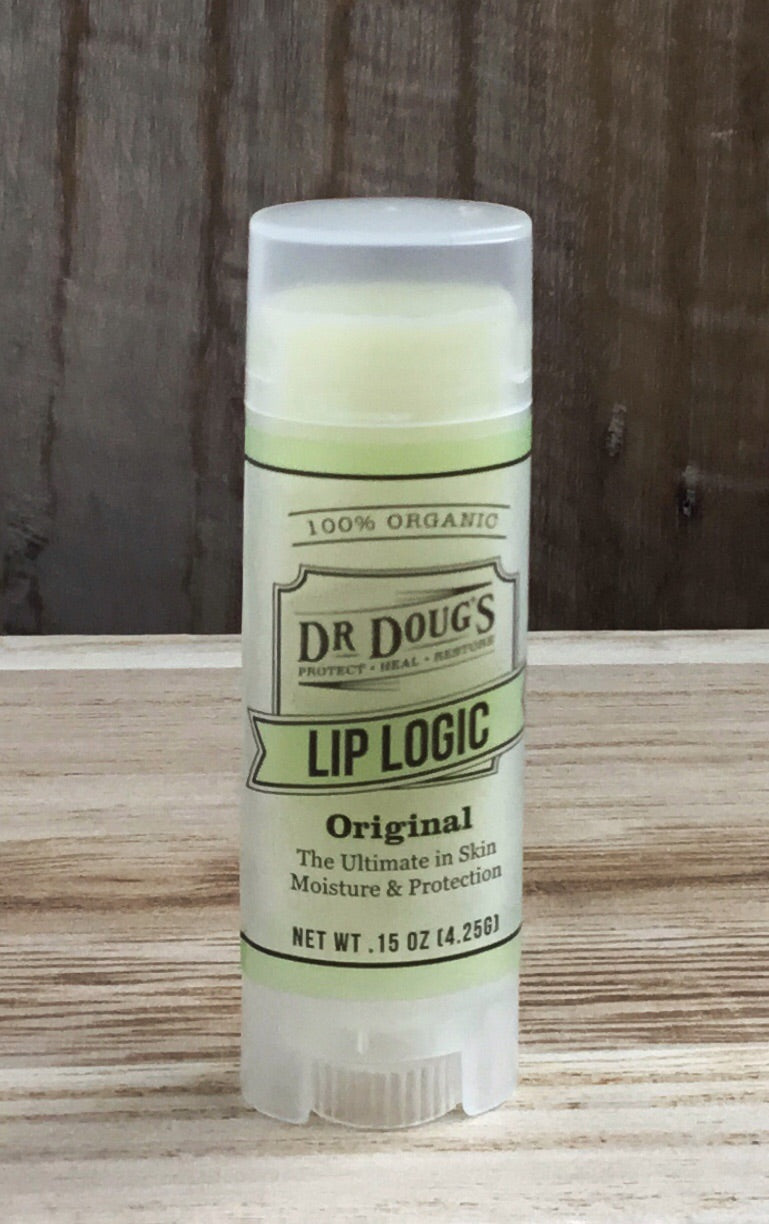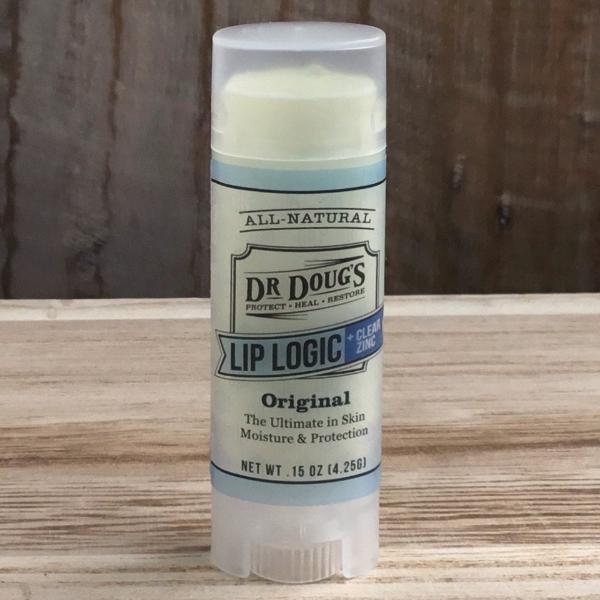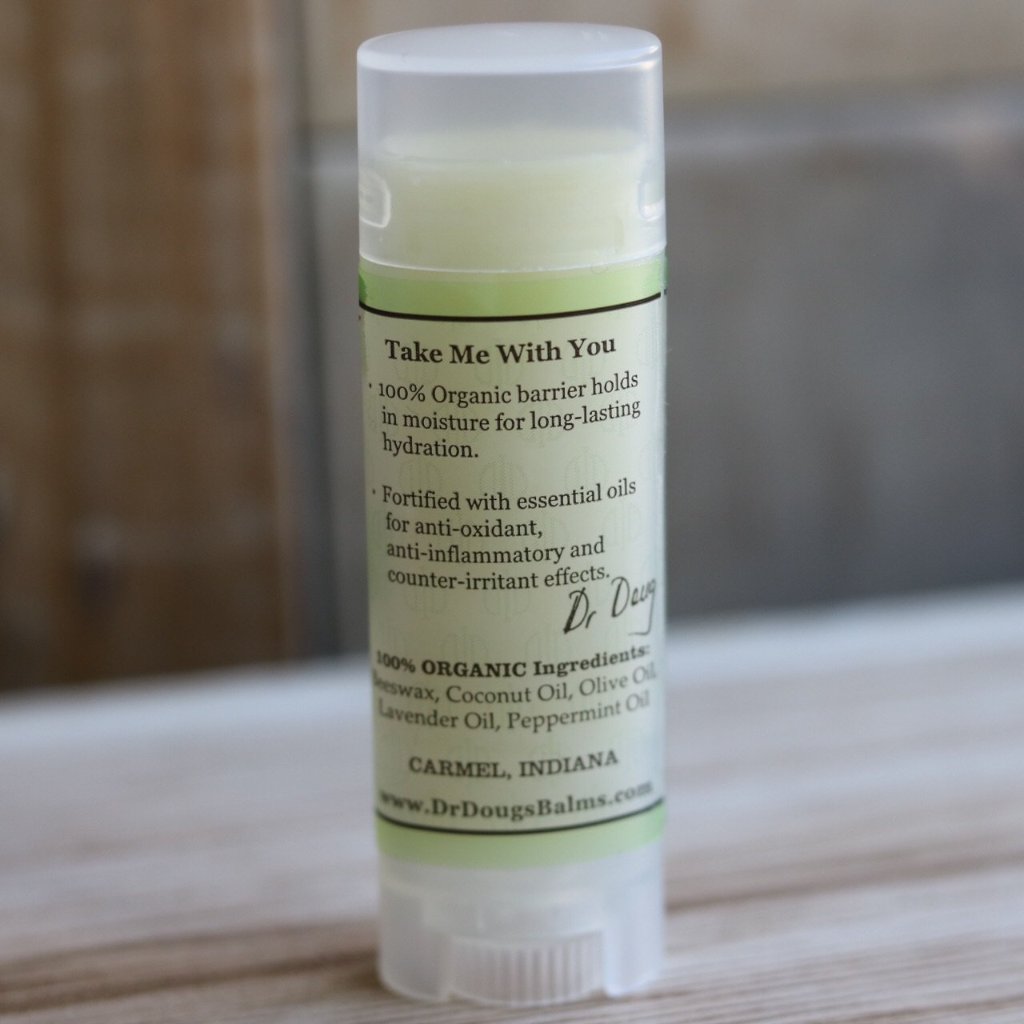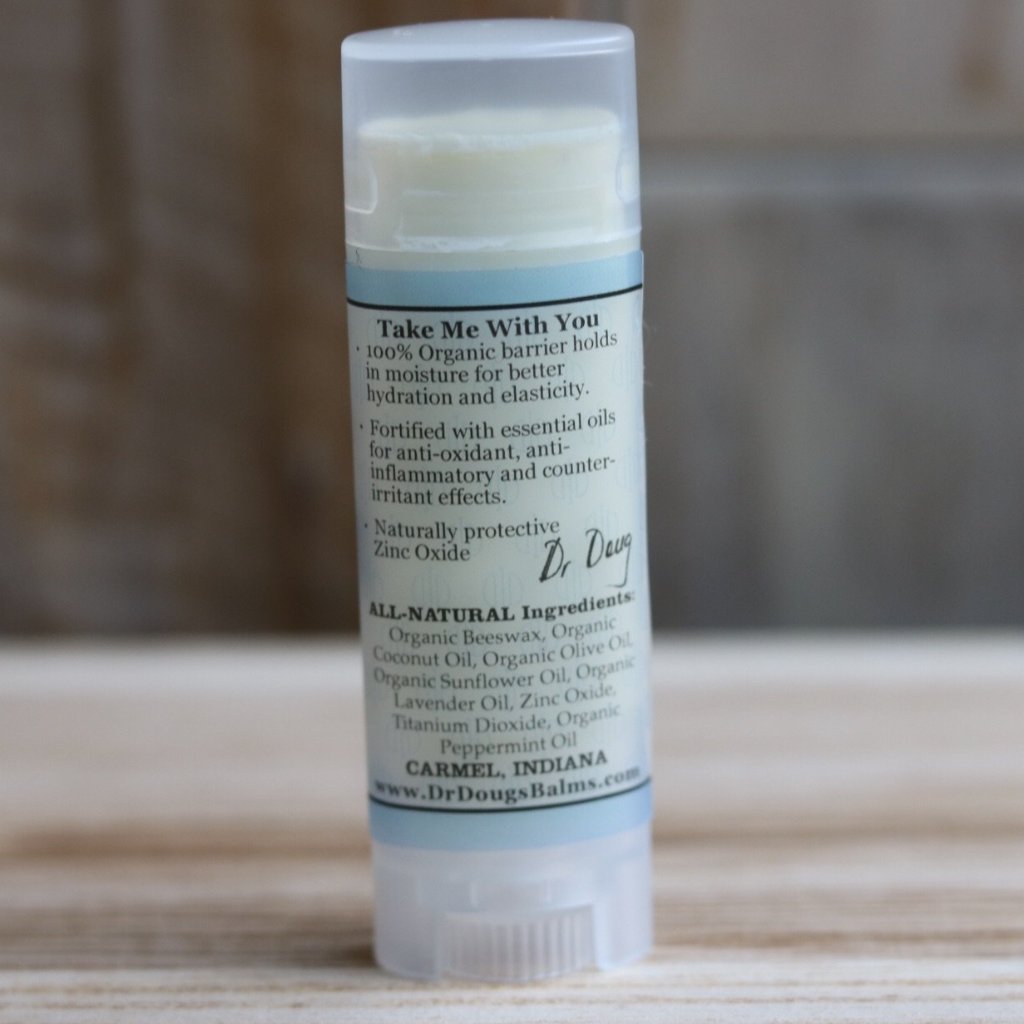 Customer Reviews
The magic of Dr. Doug's
My dry, cracked skin is now soft and smooth. The only product that works. I love Dr. Doug's.
01/07/2023
Kathryn T.

United States
Lip Logic
Terrific product
08/21/2022
Diane B.

United States
Love This Lip Balm!
This is a wonderful lip balm that glides on and keeps lips soft and hydrated. No odor and good staying power. I keep one in my makeup bag and one in my purse…also it's a must-have in my 1 quart TSA bag whenever I travel. Airplane air is really dehydrating so I reapply this as needed throughout my flight. I also swipe some on a finger and use it to tame unruly brows. This is a great, simple product that works!
02/25/2022
Jacqueline S.

United States
Dr. Doug's simply the best!
Wonderful experience
12/24/2021
Laura M.

United States
Life saver
The ONLY product that works for dry lips. Non-addicting unlike drugstore balms. Bought for stocking stuffers!!
08/11/2021
Angela S.

United States
The best ever
I cannot tell you how much I Love Dr. Doug's products. The best on my skin.
07/13/2021
Catherine G.

United States
I Recommend
I keep coming back to these products. They moisturize wonderfully, they smell great and I like what they're made of. Miracle cures keep getting my attention and my money but this seems to be the one I buy again.
05/21/2021
Cheryl W.

United States
Nice lip balm
Really liked the lip balm. They are just extremely small for the cost.
03/29/2021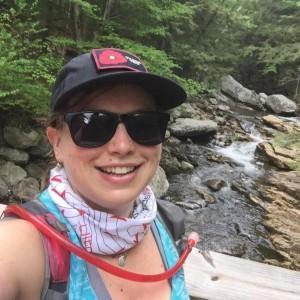 HH
Hannah H.

United States
Favorite Lip Product
I love the Lip Logic with zinc. I don't use any other lip balm if I can help it. Protects from the sun, from drying and cracking, is smooth, and has a pleasant smell.
03/19/2021
Anonymous

United States
Lip Logic
This is a great balm. I have tried many and this is one of the best out there. This is my first experience with Dr. Doug...top notch!
01/13/2021
Anonymous

United States
Love my lip Logic!
I love this lip balm. It's smooth, subtle and moistens!
01/08/2021
Laurie S.

United States
Love this lip balm!
This is one of my new favorite lip balms. It smells and feels nice, and I love that I can read all of the ingredients and recognize them.
11/06/2020
Adele ..

United States
The best
I work in a hospital, so my lips are very dry from the dry air and constantly being in a mask. Lip logic works great to hydrate and doesn't wear off lime most other lip balms.
10/29/2020
Phyllis S.

United States
Lip logic And lip logic with zinc
Lip logic and lip logic with zinc I recently tried lip logic with zinc and I really like it. I love the original lip logic, too. They both work miracles on your skin! My lips feel much healthier, softer, not dried out at all. Thanks, Dr. D!
Awesome for skin against the sun:sunny:️
We spend a lot of time at the lake in the summer and might be outside 10 hours a day. Lip Logic really keeps my lips soft and moisturized. Love it! :star:️:star:️:star:️:star:️:star:️
06/08/2020
Adele .

United States
The best
As a healthcare worker in a hospital my lips were always dry, add wearing a mask all day and it got worse. The lip logic is the only lip balm that lasts. I have them everywhere . And I got the Zinc ones to have for outside. Thank you for all your products